I got so excited when I saw the post saying the Rafflecopter for this AH-MAY(July)-ZING Blogger Event was open that I rushed through the entries! UNTIL, I read the rules and it stated that I have to do all the entries at the same time? D-UH! *knocks head against wall*
So...unfortunately this is going to be a bit of a rushed blog post yet again. READ THE RULES, ABBY!!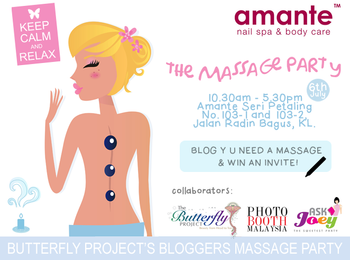 Sounds like a
BLAST
doesn't it?? I think so. Can you say
MASSAGES
? And
PHOTOS
? And
BLOGGER MEET-UP
!
If you're lucky, you get to
Stay Calm & Relax with Amante this 6th July (Saturday)!
My THREE Reasons Why I NEED
a MASSAGE!
Sad Reason #1
~

I feel so stressed out these days. It's not just the family stuff, parent getting sick (again)
, not getting to go out, I FEEL physically, emotionally, and spiritually stressed OUT! And this darned haze ain't helping!! GAH!! *pulls hair*
Yes, I think I am losing lots of hair every month because of all these stressors. I am trying not to get stressed out but I have so many kinks in my back I can't help but get moody.
How could you NOT relax at a cozy place like this?
Sad Reason #2
~
I have not had a massage in months! That is not good news as massages are good for blood circulation. And massages help to get rid of the awful thing called *gulp* cellulite *whispers* Yes, I NEED this massage very VERY badly.
I want to look like this!
Hopeful Reason #1
~
What could be better than to CHILL OUT for a whole day not just with my new blogging buddies *hopefully* but it would be AWESOME to get a lovely massage one week after my upcoming mani pedi session!
No wonder so many people look up to Audrey Hepburn even to this day!
Want to be a part of the Amante Massage Party? Score your ticket over at The Butterfly Project! You'll float like a butterfly after this Party!!
May the odds be forever in your favour!